dream
I made this page for my son, he's 15. let's just say that I saw this picture and thought "there is a light at the end of the tunnel!"
I used:
ABR Scenic route 12 x 12 paper brown
MariaLaFrance photosplits 2 1 Shad
BKerr Indreams: Word arts grunged, doodles, and wire squiggles
I found the file section and now am making notes there about what was used for the scrap pages. Yes, random notebooks left all over the house just are not helpful.
Val.
P.S. I had a lot of trouble with this for some reason. Newbie and all that, I've done this before so I'm not sure why this one isnt cooperating. I changed the image file to 60 x 60
If you want a better look, here is a link: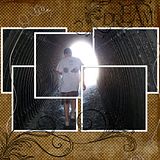 Thanks and sorry about that.
---
Report Image