I volunteer with a local hockey team's booster club and every year we make an a Christmas tree for the Ronald McDonald House to raffle that is all hockey. It's a hoot and everyone loves it. Yes, I do my share of letter writing and begging, er, asking nicely for ornaments to be donated but I also make ornaments. Sometimes from wood cut outs, sometimes from premade ornaments that I decorate after. Here is a sample of a couple that I made one season.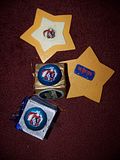 If anyone has any ideas that are reasonably easy and affordable, I would really appreciate it.
If anyone wanted to make some even one for us as a donation, I would so very grateful.
If anyone has any hockey connections and could send the booster club ornaments, I would so very grateful.
Any and all teams are good for the tree, AHL, NHL, ECHL, UHL, the Q, etc.. Love them all.
I don't post here very often so I hope this is the correct forum and that I am allowed to ask this here.
Thanks, Val.