Not Only Once, But Twice!

I've been published!!!
Posted 18 September 2009 - 02:45 PM
Wow! Congratulations! How's the new okie baby?

---
Posted 18 September 2009 - 02:49 PM
Awesome Lori, Congratulations!
Sweet siggy made for me by Julie
My Gallery
I use CS5 and love it!
---
Posted 18 September 2009 - 03:29 PM
Fantastic Lori!!!!

When the Power of Love

overcomes

the Love of Power, the World will know Peace.
»»»My Blog: Audrey Playing House«««
---
Posted 18 September 2009 - 03:52 PM
chambray, on 17 September 2009 - 09:29 PM, said:
Oh Lori, congratulations!!!!

How cool, I love your layouts! They are so precious, I remember how much I liked your style when I first saw them a few months ago. It was when you responded to my first post in the meet and greet forum (a fellow Okie!).

I always look forward to seeing new pictures of the boys. I wanted to learn to scrap as a creative outlet. But as soon as I saw your layouts, it hit me what a blessing your creations will be to your boys when they grow up. Your love for them shows in all your creations. Not only will they have an amazing record of their childhood, they're going to know how much they are loved and cherished and what a blessing they are to you! That's what being a mom is all about, isn't it?

Are you aloud to tell us what your layouts are about?

One of them was for a "babies" submission, the other was for converting a color photo to B&W. Of course they are BOTH layouts of my boys. haha
...and Okie Baby is doing great! He's really got days and nights mixed up right now (we were up until 2 am last night/this morning), but really he's a pretty great and easy baby. Noise doesn't bother him, either, so his brothers aren't annoying him (yet).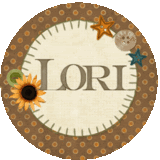 ---
Posted 18 September 2009 - 10:31 PM
Way to go Lori! Congratulations!!!

My Gallery
I scrap with Photoshop CS6, but can help with older versions: PS7, CS2 & CS4.

---
Posted 20 September 2009 - 10:18 AM
That is too cool! Congrats!!
My Gallery
New Gallery Posting (Leaving Love) Goal: 4000 by December 31, 2013.
---
Posted 20 September 2009 - 10:24 AM
That is exciting, Lori. Way to go on getting 2 published. You just never know what LO they want.

---
Share this topic:
---
1 User(s) are reading this topic

0 members, 1 guests, 0 anonymous users