With the 4th of July coming up this Friday, here are some tips for taking photos of the fireworks.
**First and foremost – remember the camera! (This includes batteries and memory card(s)!) You will want to be able to take as many photos as possible, so be prepared.
**Second (and this is VERY IMPORTANT) – you will need a tripod. It is very difficult to get a good photo of a firework that is not wiggly without a tripod (unless you just simply adore wiggly fireworks
). You can get good ones handheld, but they're very hard – and you must be very still and patient.
**Third thing that will help a lot is a release shutter cord. (Not all cameras come with this option) When you push down the shutter button on your camera – believe it or not – it makes the camera move – and we don't want that. (If you don't have a release shutter cord, try using timer mode.)
*One other little helpful thing to bring is a small light/flashlight so you can tell what you're doing.
*Watch out for your surroundings, trees and power lines are not what you want in a good firework photo. I've taken a good deal of firework photos only to find part of a tree in the way.
Alright; now for camera settings. I realize most of you will have what's known as "point and shoot cameras". I hope these tips will be helpful for you. If you have a manual option, go for it. If you really want to try that "firework" setting built into your camera – you can try it if you want. I'm not telling you what to do – these are just tips.
Oh, and don't use the flash. (Unless you're getting a photo of your family, but then you won't see the sky at its best.)
I used my Canon Rebel XT aka 350D with a tripod and a remote shutter release cord for my photos.
You want to be able to capture as much of the firework as you can, so go wide. Don't zoom in. You can always crop the photo in photoshop.
For my photos, I set my camera to M (manual mode) and put it at ISO 100, shutter speed 1 second and f/10. (The first two here were accidentally set to f/2.8, letting in more light. The 1st photo had 6 seconds of exposure and the 2nd photo had 5 seconds of exposure.)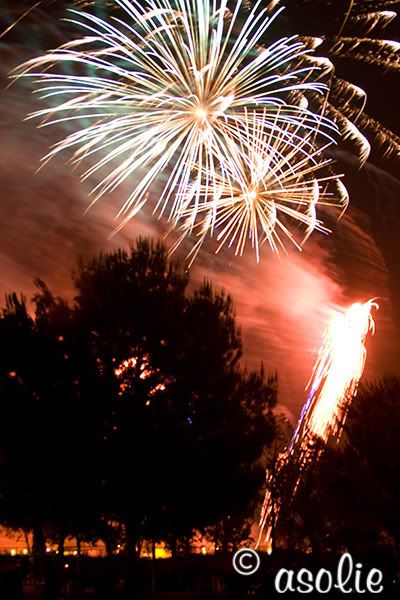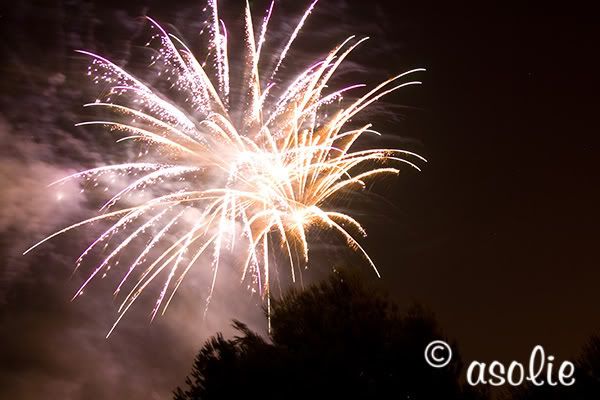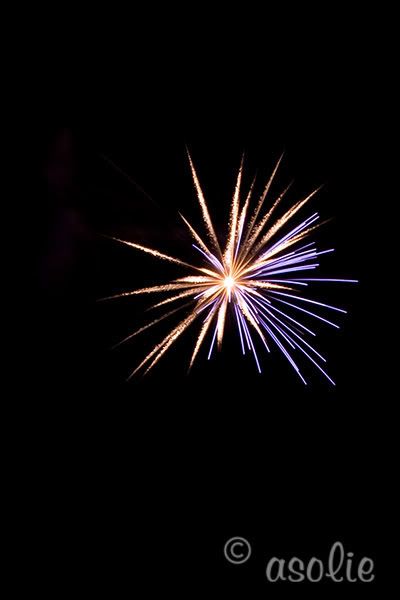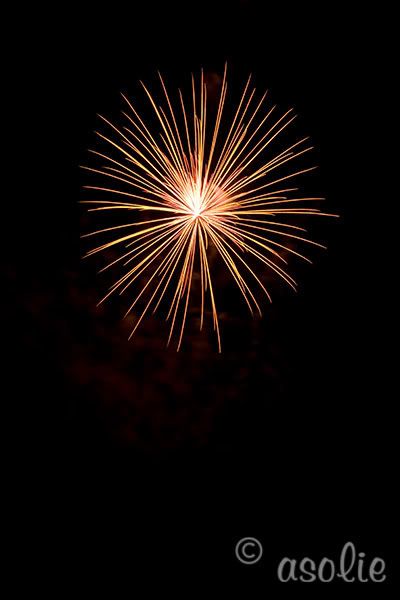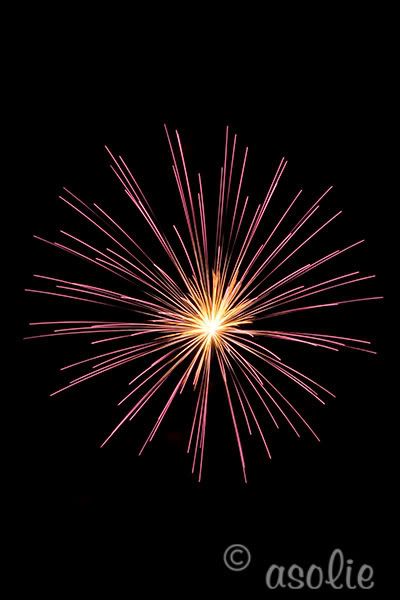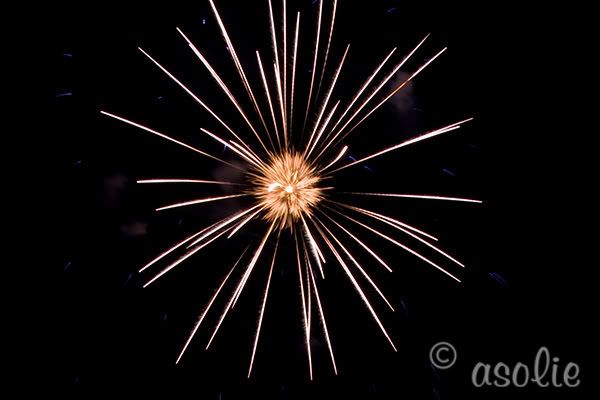 Some people set their cameras to Bulb mode (where as long as you hold down the shutter release cable, that's how long the exposure will be) I find that really tricky, but it has good results if done properly.
----Continued next post------