We have been discussing the Pantone Color of the Year, Marsala, all week.  While researching this color choice on the internet, I found quite a bit of controversy, people either really love it or really hate it.  It appears that most people here at Scrap Girls like it, although some are withholding judgment until they see more of it.
Below is a color swatch of Pantone's Color of the Year since 2000, and I am sure you can see the difference in this year's selection, it is much more subdued and earthy, as pointed out by Debbie in this week's newsletter.  For today's challenge create a layout with your favorite Pantone color choice from the last several years as your dominant color.  If you are loving Marsala, feel free to use it again, however if you are a bit tired of it, you have several other colors to choose from.   After you post your challenge in the Weekend Challenge Gallery come back here and tell us what drew you to that particular color choice.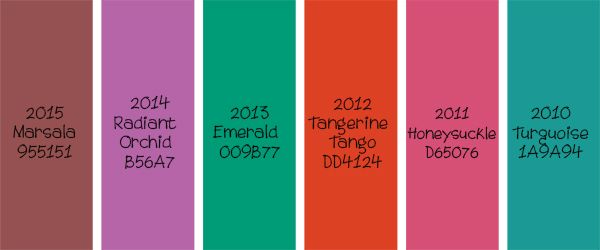 Here are a few collections from our boutique to inspire you:
Marsala:
Radiant Orchid:
Bold and Beautiful Collection Biggie
Emerald:
Tangerine Tango:
Under Construction Collection Biggie
Honeysuckle:
Turquoise:
Serene Moments Collection Biggie
Or use the HEX number and any Scrap Simple products, if you prefer.
Post your layout to the Weekend Challenge  gallery.
Happy Scrapping!